Many people ask me about my dance shoes. Which brand I use, where do I buy them…
I will tell you my secret. I design my shoes myself and make them in a theatre shoe workshop in St – Petersburg.
When I started dancing Swing & Charleston in 2011 I was trying to find the most comfortable, beautiful and functional shoes, however couldn't find them. Too firm, too thick,slippery, sticky, beautiful but uncomfortable and so on and so on.
My first design I did in 2012 for my dance troupe ChazzMim Show. Here is one of the show we did, the show "Les Marionettes". It was a quest, I must say. I changed several shoe masters, found my perfect form and here you go.
I love shoes that make your legs long, that's why most of my shoes are beige, golden to blend with the skin tone.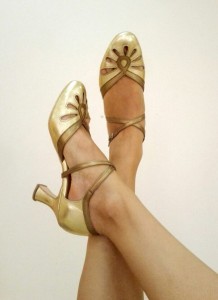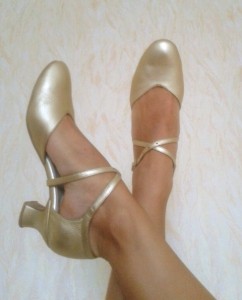 I danced in Butterflies one of my favourite jazz numbers: Oscar's Jazz:
I love elegant shoes – tango was my inspiration. This is model I called "Jazzville" (the "Endless Leg"). My absolute favourite one! I've got a sparkly light gold color version of those for performances.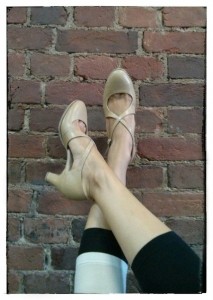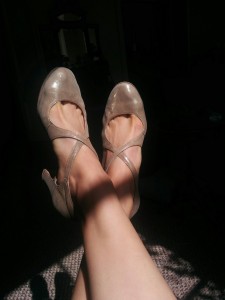 Here is Chicken Rhythm dance on Ukrain's Got Talent danced in those beauties:
Vintage of course, as you see on this model "Medalion".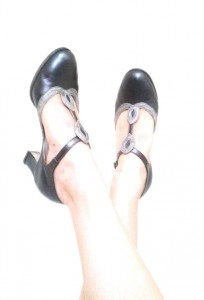 Here are some photos of me dancing in my shoes:
In the last few years so many shoe brands popped up in the swing dance world. The whole new industry for everybody's taste. I never imagined selling my shoes. They were always a personal venture. And some of the girls, dance friends, in St – Petersburg are using my pattern. However, there seems to be an interest to shoes, selected by professional dancers.
So here is the question, are you interested in my designs and would you like to this type of shoes for yourself?