Here is a story of how I my dance choreography led to performing with one of the most influential and inspiring jazz music artist Christian McBride.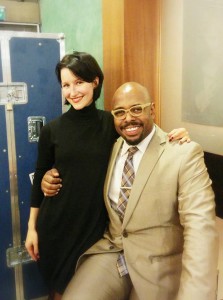 The beginning of a beautiful friendship
That is how I will call that day, November 7th 2014. That was the day I met and spent a delightful time with beautiful people and amazing musicians: Christian McBride, Christian Sands, Ulysses Owen Jr.
In the fairy tale lullaby city of brothers Grimm, magic opened it's doors and I had an overwhelming gift to dance on stage of Kassel Staatsteatet with the Christian Mc Bride Trio.
Christian McBride is an American virtuoso bass player. The most recorded musician of his generation and a 3-time Grammy award winner. Warm-hearted, joyful, inspiring artist.
In A Hurry solo jazz dance choreography to Christian McBride Big Band
The story began in Spring 2014. In searches for something new, fresh for my jazz dancing, I discovered "The Good Feeling" album by Christian McBride Big Band. Powerful, stylish, groovy… It inspired me to create a choreography, something of my own.
"In a Hurry" was the choice. This tune is a fierce foray: powerful creative instrumental solos and astounding bass leading line. Feeling of a classic 30's big band in the "head" and modern jazz in the solos. This is a big band music of today. My dance as the music itself portrays a mixture of old tradition (authentic jazz, charleston, blues) and new influences (modern, house, hip hop). I called my choreography "Revival" for the reason that it is something absolutely new that is re-born in fusion of jazz traditions. I believe that jazz dance as well as jazz music has a true spirit of freedom, improvisation, constant innovation. Great to know the roots, the style of the Masters. Greater to create your own unique style.
I performed my choreography at Frankie Manning 100 in Berlin and decided to send it to Christian McBride himself.
Long story short, Christian McBride eventually answered and answered with such a delight and warmth. In November his trio was having a European tour and was as well playing a gig in Germany, Kassel. What a perfect coincidence! All the roads led to our meeting.
That time, for the first time in history of Germany, probably, Deutsche Bahn went on 4 days strike. I decided that even if it took me to ride a horse to get to Kassel, I would do that.
November 7th, I am on my way to Kassel, 5th hour of a car share trip and I get this wonderful message, something like "Hope you have your shoes with you". Purely innocent in thought that I am going to see a jazz concert. I made a dancers sin – didn't take my dancing shoes with me. Dancers, always, listen to me, always take your dancing shoes! No expectations. Just in case. Life gives generous gifts from time to time.  Thunder and storm in my soul weather. First thing after I jump from the car in a rainy freezing cold Kassel, I ran into the shop to buy somewhat danceable shoes.
When my phone showed me a calling number from New Jersey I was ready with new shoes, dress and few other performance stuff (just in case) and on the way to have a lovely tea with the person, whose music I listened thousand times.
After a while of laughing about the shoes story, Christian asks: "So…. what do you want to do?" And that is how we did "Night in Tunisia" on stage at Kassel Theater. Pure improvisation, pure thrill and excitement. Pure flow and sometimes, just sometimes, few crazy thoughts like "how not to fall from the stage" and "am I really preforming with Christian McBride trio right now, at this moment!?"
Links to Christian McBride
christianmcbride.com
facebook.com/officialchristianmcbride
youtube.com/christianmcbridetv