Ksenia Parkhatskaya is the most viewed 20s Charleston dancer. Discover her top 5 Charleston dance videos and choreographies.
What is 20s Charleston dance?
The Charleston dance had possibly the greatest influence on the American culture.
Enslaved Africans brought it from Kongo to Charleston, South Carolina, as the Juba dance, which then slowly evolved into what is now known as Charleston. The dance belongs to the family of African-American vernacular dances. Many scholars believe that the Jenkins Orphanage Band is responsible for the national spread of the Gullah inspired Charleston steps.
In the early 20s the Charleston dance turned into a popular American craze. It was spread internationally when Josephine Baker, famous Black American dancer, introduced this dance to European audiences in her Parisian premiere "La revue negre".
Even today Charleston is a popular dance. This energetic, freeing, wild dance carries the party spirit and transmits the joy to each and every one who tries it. You can recognise Charleston moves and the pattern of the basic Charleston 8 – count step in many other style. For instance it's a common vocabulary move in House dance, though it is called "salsa step".
To know more about the origins of Charleston dance, you can follow the blog "The History of Charleston dance" 
20s Charleston dancer Ksenia Parkhatskaya
"Jazz Age dance maestro Ksenia Parkhatskaya"
Ksenia Parkhatskaya is a Russian – born and currently Barcelona based dancer. She is one of the most versatile artists in the field of solo jazz dance.  Ksenia became known for her sensational 20s Charleston style and has garnered over 200 million views online.
Ksenia has a strong background in ballroom dance and musical theatre. When she started her jazz dance path in 2009, 20s Charleston was the style that attracted her immediately. An eccentric, exaggerated and very theatrical dance style was a great discovery and Ksenia connected with it immediately.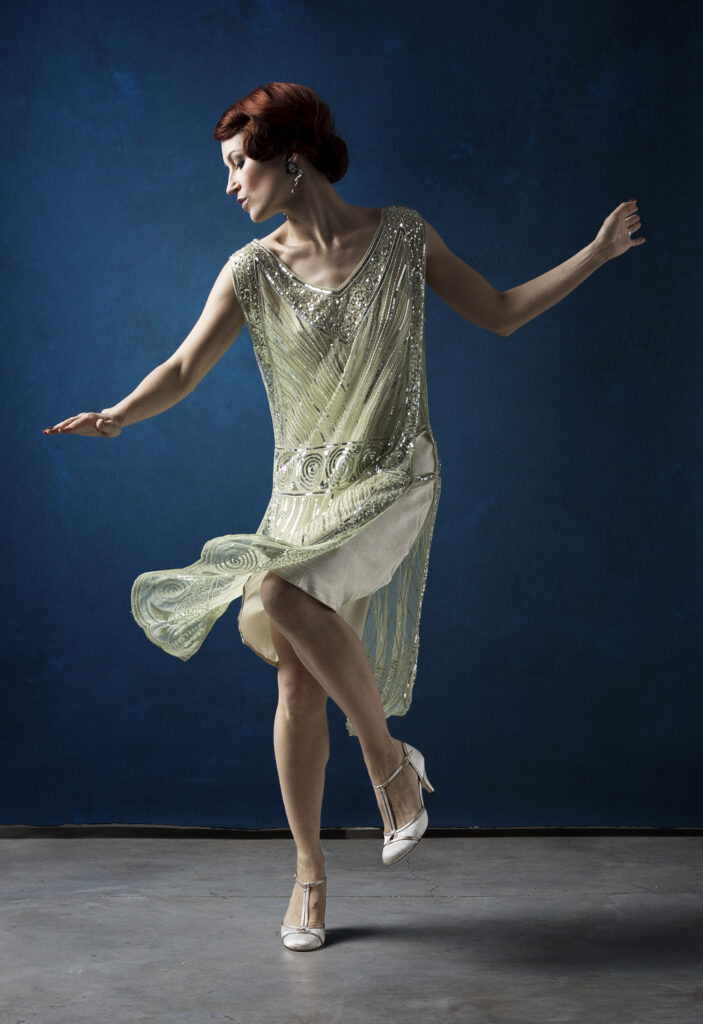 Charleston style
Charleston is not only a dance, it's a culture and theatre in itself. It  has a strong connection with flappers and their revolutionary new image of a woman, sexually charged movements and pretentiousness of the character. There is a strong element of comedy in this dance with its silly moves, humor and irony. We can see connection with silent movies through the exaggerated overly dramatic expressions. Finally eccentric dance is a part of this dance culture with its legomania and bizarre movements.
I loved creating and becoming a character. This style, the world and culture that surrounds it, proposed such a variety of characters. A flapper, an orphan boy, the host, a gangster, a cabaret girl, etc. As well all sorts of eccentric, show characters like rose flower, chicken, bird and so on.

I read somewhere that there were 74 moves in Charleston dance. Yes, the dance has a limited movement expression in comparison to contemporary dance, for instance. But if your choreography is guided and build on a character and not on a combinations of move, you have loads of variations to play with

– Ksenia
Top 5 Charleston choreographies
1. Stockholm Stomp
Stockholm Stomp was Ksenia's very first solo choreography. She created it while still living in Saint – Petersburg only a short time after becoming acquainted with the style of Charleston.
Prior to that Ksenia has only few occasions to learn jazz dance. One was in Casa Latina with Ksenia's first swing dance teacher Fedor Nedotko. Fedor, a Russian jazz dance guru, was at the time mostly teaching partner swing dance, Lindy Hop. He was giving a few Charleston solo steps as a warm up and preparation for Lindy class.
The other was in the legendary Herrang Dance Camp in Sweden, Stockholm, where Ksenia went to study The Lindy Hop after only 3 months of classes in her hometown.
First steps
Ksenia learned her first 20s Charleston steps not in any class or with the help of a teacher, but through old video clips available online. Simply that. She practiced the steps in her room, while searching for something of her own. Fascinated by silent movies, Ksenia copied the exaggerated ways, dramatic reactions and big amplitude movements of actresses.
I really locked myself in a room in front of the mirror. I was completely immersed in the process of unlocking my flapper.  You see, the heels, elegance, theatricality,…all that was very close to me at that time. I loved trying on all those gestures and manners of silent movie actresses. Interestingly, I didn't watch videos of other dancers in swing community. I didn't want to be influenced by them. If anyone, I wanted the image and style of the dancers from 1920's old video clips to have an influence in me

– Ksenia
Maybe for this exact reason of being self taught and almost intentionally trying not to be influenced by dancers in swing dance community at that time, is her style so recognisable.
The first choreography was featuring the character of the notorious Flapper. Short bob, short skirt, cigarette and nasty brave movements. Notorious character, wild energy and flirty mood.
"So You Think You Can Dance" in Kiev
This was as well that famous choreography that Ksenia danced at "So You Think You Can Dance" in Ukraine, Kiev. She was personally invited to participate in the competition and got the ticket to the next round. Unfortunately, due to the fact that the dates of the next round were coinciding with Ksenia's show in Austria at World Body Painting Festival, she couldn't participate.
The video of this performance became viral immediately and gathered more than 2 million views.
2. Chicken Rhythm
Eccentric 20s Charleston dance "Chicken Rhythm". The choreography was first created for a duet with Sarah Breck for European Swing Dance Championships in Barcelona.
I was always interested in finding a story and a character. I just could not be satisfied with the idea of putting some moves together to some song. Why? So I was searching for an idea for a duet with Sarah.

At that time I was fascinated by the music of Slim and Slam. Such humorous, liberating and very visual music. And then I discovered a tune called "Chicken Rhythm". Every time I heard it I laughed so hard. I thought, hm, girls are a little bit like chickens at times. Fussing about their lives in the state of continuous chatter and sporadic actions. What a perfect imagery! And from there the images, words, associations and situations just flooded my head

– Ksenia
Chicken Rhythm is certainly an eccentric theatrical experience.
"[…]"eccentric" is a catchall for dancers who have their own non-standard movements and sell themselves on their individual styles"
(Stearns and Stearns, 232).
The costumes for the show were created by Sarah Breck. Later on Ksenia went on performing the showcase by herself.
"Ukraine's Got Talent" ( Україна має талант-6)
Ksenia as well performed the dance as a guest performer and contestant at "Ukraine's Got Talent" ( Україна має талант-6). It's somehow a common confusion that Ksenia is from Ukraine due to a few videos with millions of views from her performances in the country. Ksenia is Russian, born and raised in Saint – Petersburg, she was personally invited several times to perform, compete and even choreograph for dance and talent TV shows in Kiev.
The video gathered almost 3 million views.
3. Flappers Folly
Flapper character and Ziegfield Follies, famous theatrical revue productions on Broadway, were the inspiration for the name of the choreography. The showcase was created for a live performance at Les Nuit du Mont Rome in France.
Ksenia was commissioned to create a 1h dance and jazz music concert for this spectacular open air amphitheatre in the middle of Burgundy region. When creating a concert of such length you need to be sure to have diversity of jazz styles, rhythms, characters and tempos. Flapper's Folly was there to represent the "hot jazz" insanity. The fast, sparkly, bright and overwhelming piece. Ksenia performed this piece with the amazing Keystone Septet from Paris playing it live.
That was some madness, I have to admit. I was carried by the wind of the stage barely catching my breath for the next 10 minutes. No need to say it's a stamina challenging piece.
It's amazing though how people react to Charleston. They light up in one blink of a moment. Engage, clap, open up their eyes and the smile starts to appear on people's faces.
It's a joy to perform such a number even though you take Wim Hof's breathing just before to manage it physically, hehehe. I am always nervous to perform the Charleston 20s for exactly that reason. It's a very demanding style of dance and type of performance. You can't just flop it by kind of giving energy…no no, one has to deliver and burst. That's what I think.
Having a passion for dance film, Ksenia created and produced quite a few video dance works. However, somehow, a 20s Charleston choreography was missing from her video repertoire. In 2019 she decided to fix that by filming Flapper's Folly in Saint – Petersburg in one of the stunning photo studio venues.
I think we took 7 takes of the whole number. That is always a thing with filming. You are checking yourself on endurance. Interestingly, with Charleston, the more you dance it, the more you get tired, hence the more relaxed your limb becomes and you just go ahead on flapping about.
4. Honeysuckle Rose
Honeysuckle Rose is a theatrical 20s Charleston dance that combines dance and body art. Ksenia created this piece to perform at one of the most important swing dance event "The Snowball".
Body art and costume is done by Ksenia's sister, a multi disciplinary artist Evgenia Parhatskaja. Evgenia is an award – winning body paint artist. She placed 3rd in WBF in category of brush and sponge.
It was certainly a brave move to come out in front of all vintage dressed swing dance audience in a bra and a night skirt covered in body paint. Though there is a stage and audience. And both need spectacle. The costume were not to shock, but to entertain. That is the job of a performer

– Ksenia
The character
In this choreography as in all others Ksenia is again creating a story around a "character" of a honeysuckle rose. The costume, the music and the movement in the introduction to the dance create the imaginary world of a flower.
It's always so interesting how a character can deepen and variate a simple step. A character can really put a style, create a flavour to a given physical dance movement. If not for the characters, all choreographies would have been the same, for they would just be the combinations of some physical movements

– Ksenia
5. Sugar Foot Stomp
Showcase first performed in Bangkok at Diga Diga Doo 2017 festival.
The style of this showcase inspired young flappers who played with men's wear: suits, tails and so on. For instance, like Louise Brooks. I love how the suit gives you a different power and energy. As well in this choreography I wanted to explore a slightly different movement. To fuse it with jazz footwork, body isolations

– Ksenia
Bonus
Show for Vecona Vintage by Ksenia Parkhatskaya and Felix Berghäll with The Hot Four Band
You can learn 20s Charleston with Ksenia in her official online dance school Secrets of Solo. Check out the subscription plans here.