Ksenia Parkhatskaya, dancer, singer and choreographer is constantly pushing the boundaries of solo jazz dance. Here is a new look on jazz with a  new single "Something Else" for K Quintet project created with her husband, bassist and composer David Duffy.
K Quintet jazz band
Led by world-renowned Russian dancer Ksenia Parkhatskaya on vocals and Irish musician-composer David Duffy on bass, "Something Else" is the debut album from their K Quintet project.
With more than 150 million views on her videos which cover – amongst other styles – Ragtime, Charleston, Swing and Bebop, it seems natural that the repertoire on this record looks back to the classic jazz of the 50's and 60's.
Citing influences such as Oscar Peterson, Red Garland, and Ben Webster, standards by the likes of Duke Ellington, Richard Rodgers & Henry Mancini are subtly mixed with original 'classic' compositions, written by the husband-and-wife bandleaders.
Debut album "Something Else"
In another nod to days gone by, the album was recorded at Vertigo Studios in Barcelona – a haven of vintage microphones, preamps and tape recording facilities. It brings together some leading names from the Spanish jazz scene, including Marc Martín Torrent on piano and Xavi Hinojsa on drums.
Album is a combination of jazz standards and original jazz tunes, new standards. David Duffy and Ksenia Parkhatskaya wrote the original classic tunes together.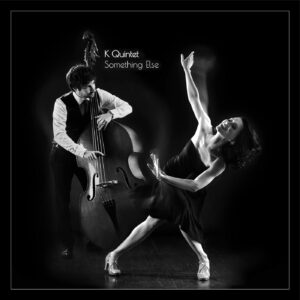 The album is available on various platforms. You can choose where to listen here.
You can purchase the album here.
Why jazz album and why now?
These days record labels slowly tightening the noose on online copyright. Jazz dance is directly dependant on music therefore it is hard for dance artists to keep creating to classic compositions.
Quite an often case is when I release a brand new video of my choreography it gets banned, muted or delete by YouTune, Facebook or other platforms, this way literally closing a possibility to create for a jazz dancer.

Sadly, there is no copyright on dance. There seems to be no value or protection in the internet world for original choreographies. A dancer these days need to pay, negotiate to get the rights to use certain music before even thinking of dance. Luckily, my husband is a versatile musician and a composer. And I am myself a singer. So the we created this album because I needed access to royalty free swing music to continue making dance work

– Ksenia
Pushing solo jazz dance boundaries
To launch the single "Something Else" from the album, leader of the band Ksenia Parkhatskaya created a choreography and produced a dance video clip. Ksenia invited two powerful versatile female dancers. Both dancers are connected to jazz in their own sort of way.
Cast for "Something Else" jazz project
The video of their original composition "Something Else" – which has more than 200,000 views already – features Ksenia along with fellow dancers Aina Lanas & Marina Pravkina performing a combination of solo jazz, vogue, UK Jazz and contemporary dance.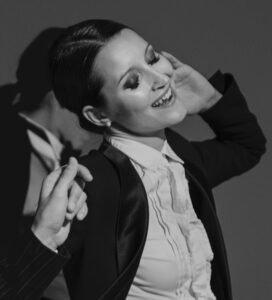 This is the first choreography that I did with amazing dancers outside of the swing dance world – Ksenia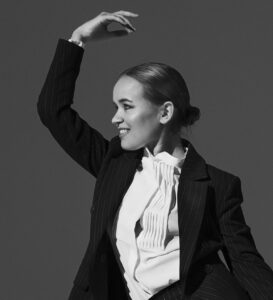 Marina Pravkina, Russian- born, Barcelona based UK jazz, jazz not jazz and house dancer. Co – creator and dancer of UK jazz, bebop crew MIJ, Matreshki in Jazz. Creator of Jazz Between party.
Aina Lanas is a contemporary, waacking and urban dancer. With her company of CIA Aina Lanas, she created a recent work MAWU, that is touring Spain and South America. David Duffy wrote a full score to MAWU dance piece.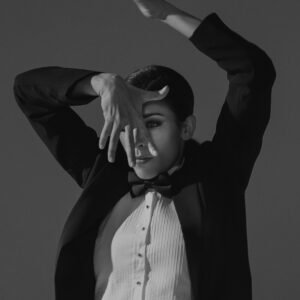 I had an idea of making a jazz choreography with professional dancers from other dance styles a long time now. I see a great potential of so much versatility and freedom in movement when you bring other influences in a pure style. Endlessly grateful for these fabulous dancers to be a part of "Something Else" to music written by my husband David Duffy

– Ksenia
New look on solo jazz dancing
"Something Else" choreography is an attempt for a fresh, new look solo jazz dancing. Ksenia was interested in how can one use solo jazz dance language to express contemporary jazz music. If music evolves, the dance language should too. The context of creating jazz today in 21 century as well should play a role in a way we express jazz. We can not pretend that we are in 50's or 60's.
I think bringing in new influences, styles into a pure form of authentic jazz dance is essentially important. Jazz by it's nature is a continuum. It constantly evolved and keeps evolving

– Ksenia
As a dancer and choreographer Ksenia the most interested in openness, creativity and research in dance. Theatricality being another strong asset of Ksenia's work helped to shape the story of the choreography. You can separate parts of the dance based on AABA structure and solos.
Credits for "Something Else" video clip
Created, produced and choreographed by Ksenia Parkhatskaya
Dancers: Aina Lanas, Marina Pravkina, Ksenia Parkhatskaya
Shot and edited by Marc Costa
Music by David Duffy
Performed by K Quintet:
David Duffy – Double Bass
Marc Martin – Piano
Gabriel Armagant – Saxophone
Juan Mar Saque – Trumpet
Xavi Hinojsa – Drums
Lighting design by Julio Barcena
Still photography by Nuria Aguadé
Make up & hair by Marta Vicente Moreno
Costumes by Ksenia Parkhatskaya, Eulalia Batlle Gallardo
Jazz ensemble K Quintet
The ensemble K Quintet is made up of
David Duffy – Double Bass
Ksenia Parkhatskaya – Vocals
Gabriel Armagant – Tenor Sax
Juna Mar Saque – Trumpet
Carlos Sarduy dimet – Trumpet * (Tracks 1,4,7)
Marc Martin – Piano
Xavi Hinojsa – Drums
Jake Klamberg – Drums * (Tracks 1,4,7)